Talakaveri - Bhagamandala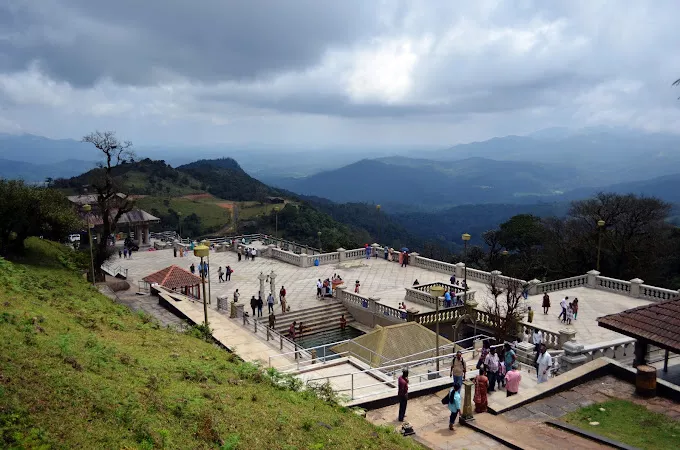 Talakaveri and Bhagamandala are two popular pilgrimage sites located in the Indian state of Karnataka. They are situated in the Western Ghats, at the origin of the river Cauvery, and are revered by Hindus as the source of one of South India's most sacred rivers.
Talakaveri is a small temple complex located at the source of the Cauvery River, surrounded by lush green hills and forests. The temple is dedicated to Lord Brahma, the Hindu god of creation, and is considered one of the most sacred places in South India. Visitors to the temple can take a dip in the nearby spring, which is believed to have healing properties, and offer prayers to the deity.
Bhagamandala, located a few kilometers from Talakaveri, is another important pilgrimage site and a popular tourist destination. The town is home to several temples dedicated to various Hindu gods and goddesses, and is known for its intricate carvings and beautiful architecture. Visitors can take a holy dip in the confluence of the rivers Cauvery, Kannike, and Sujyoti, and visit the temples to offer prayers and receive blessings.
The area around Talakaveri and Bhagamandala is also known for its natural beauty and diverse wildlife. The Western Ghats are a UNESCO World Heritage Site and are home to a rich diversity of flora and fauna, including several species of primates, birds, and reptiles. Visitors can go on a guided trek through the lush forests, admiring the breathtaking scenery and wildlife along the way.
In conclusion, Talakaveri and Bhagamandala are must-visit destinations for anyone interested in pilgrimage and nature. With its rich religious heritage, stunning scenery, and diverse wildlife, the area is an ideal place for families, couples, and solo travelers. So, if you're looking to immerse yourself in the tranquility of nature and the richness of Hindu culture, be sure to add Talakaveri and Bhagamandala to your itinerary.
Talakaveri - Bhagamandala Location