Coorg Raja's Seat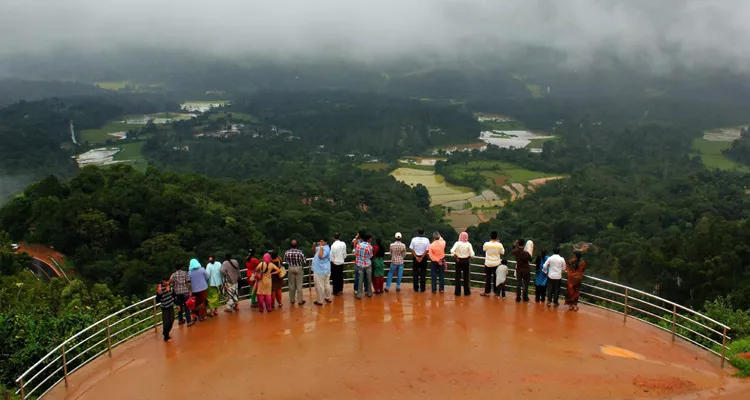 Coorg Raja's Seat is a scenic viewpoint located in Madikeri, the headquarters of the Kodagu district in the Indian state of Karnataka. This historic spot offers a panoramic view of the surrounding valley, hills and the Western Ghats, making it a popular tourist destination.
The seat was once used by the Coorg kings, or the Rajas of Kodagu, to enjoy the breathtaking views and hold court. The Rajas ruled over the Kodagu kingdom, which was known for its lush green forests, rolling hills, and coffee plantations. They also used this spot to watch the sun set behind the distant hills.
Today, the Coorg Raja's Seat has become a popular place for picnics, trekking and bird-watching. The viewpoint is surrounded by lush green trees and is an ideal place for nature lovers. Visitors can also take a stroll along the nearby garden, which is filled with vibrant flowers and shrubs.
In addition to its scenic beauty, the Coorg Raja's Seat is also rich in history. The area has been mentioned in the Hindu epic Ramayana, where Lord Rama is said to have rested at this spot during his search for his wife, Sita. The viewpoint is also said to have been used by Tipu Sultan, the famous warrior king, as a watchtower to keep an eye on the invading British army.
To reach the Coorg Raja's Seat, visitors can take a taxi or drive from Madikeri. The viewpoint is located just a few kilometers from the city center and is easily accessible by road. There are also many homestays and hotels in the area, making it an ideal place to spend a few days exploring the local area.
In conclusion, Coorg Raja's Seat is a must-visit destination for anyone visiting Madikeri. Its stunning views, rich history, and serene atmosphere make it a true gem in the heart of the Western Ghats. Whether you're a nature lover, a history buff, or just looking for a peaceful place to relax, the Coorg Raja's Seat is the perfect spot to escape the hustle and bustle of everyday life.
Raj's Seat, Coorg Map