Cauvery Nisargadhama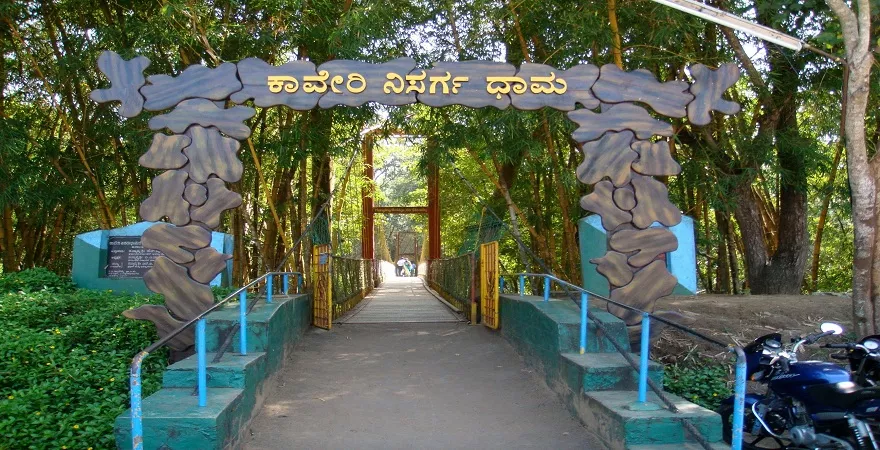 Cauvery Nisargadama is a scenic island located near the river Cauvery in the Indian state of Karnataka. It is a popular tourist destination, known for its natural beauty, serene environment, and recreational activities. The island spans over an area of 64 acres and is surrounded by lush green forests, making it an ideal place for nature lovers and adventure seekers.
The island is home to a diverse range of flora and fauna, including species of birds, reptiles, and mammals. Visitors can take a stroll through the island's lush forests, observing the wildlife and enjoying the serene surroundings. The island also offers a variety of adventure activities, including boating, fishing, and camping.
One of the major attractions of Cauvery Nisargadama is its suspension bridge, which spans over 200 meters and provides panoramic views of the surrounding landscape. The bridge is an ideal place to relax, unwind, and enjoy the breathtaking scenery. The island also has several man-made lakes, where visitors can engage in fishing or simply enjoy a leisurely paddle.
In addition to its natural beauty, Cauvery Nisargadama also offers a range of other amenities to make visitors' stay comfortable and memorable. There are several food and beverage outlets, including restaurants and cafes, that serve delicious local and international cuisine. The island also has a well-equipped camping ground, where visitors can spend the night under the stars.
In conclusion, Cauvery Nisargadama is a must-visit destination for anyone looking to escape the hustle and bustle of city life and immerse themselves in the tranquility of nature. With its stunning landscapes, diverse wildlife, and adventure activities, it is an ideal place for families, couples, and solo travelers. So, if you're looking for a relaxing and rejuvenating getaway, look no further than Cauvery Nisargadama.
Cauvery Nisargadama or Bamboo Forest Location