Omkareshwara Temple Coorg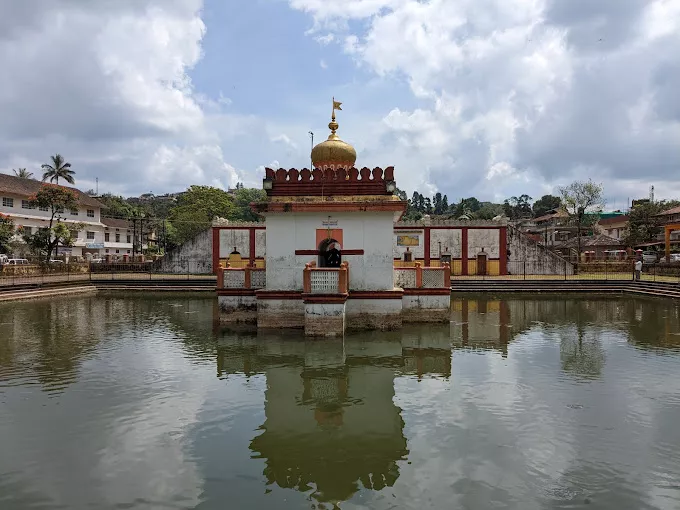 The Omkareshwar Temple is a Hindu temple located in the hill station of Madikeri, in the Kodagu district of Karnataka, India. The temple is dedicated to Lord Shiva and is considered one of the most important pilgrimage sites in the region.
The Omkareshwar Temple is situated on the banks of the Kaveri River and is surrounded by lush green forests and rolling hills. The temple is known for its serene atmosphere and its beautiful architecture, which features a blend of Indian and Islamic styles.
The temple is said to have been built in the 19th century by the then-ruler of Kodagu, Lingarajendra II. The temple was constructed as a symbol of peace and harmony between the different communities in the region, including the Hindus, Muslims, and Christians.
Visitors to the Omkareshwar Temple can take a stroll along the temple grounds, which are filled with lush green trees and blooming flowers. They can also participate in the daily prayers and rituals, which are performed by the temple priests.
In addition to its spiritual significance, the Omkareshwar Temple is also a popular tourist destination. Visitors can enjoy the stunning views of the surrounding hills and the Western Ghats, as well as the tranquil atmosphere of the temple.
To reach the Omkareshwar Temple, visitors can take a taxi or drive from Madikeri. The temple is located just a few kilometers from the city center and is easily accessible by road. There are also many homestays and hotels in the area, making it an ideal place to spend a few days exploring the local area.
In conclusion, the Omkareshwar Temple is a must-visit destination for anyone visiting Madikeri. Its stunning views, rich history, and serene atmosphere make it a true gem in the heart of the Western Ghats. Whether you're a spiritual traveler, a history buff, or just looking for a peaceful escape, the Omkareshwar Temple is the perfect place to immerse yourself in the beauty and serenity of nature.
Omkareshwar Temple Google Map Location